Microsoft WebMatrix + Microsoft Hyper-V
Unlimited Possibilites
WebMatrix is a free, lightweight, cloud-connected web development tool
Create, publish, and maintain your website with ease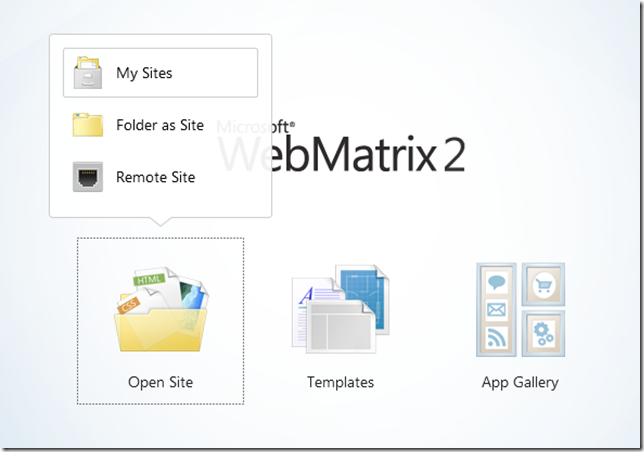 Create, publish, and maintain your website with ease
Install popular web apps with a few clicks, customize them easily with app-specific code completion, and publish them quickly to the web.Create websites using our ASP.NET, PHP, Node.js, or HTML5 templates, and take advantage of the latest web standards, emerging standards(CSS3, HTML5), and popular JavaScript libraries such as JQuery.
Our WebMatrix VPS plan includes everything you need out-of-the box to get started in no time, while 

still offering the customization and flexibility of a fully featured Hyper-V VPS solution server with Windows 2008 R2 & windows 2012
Get started today!

Optimized for Open Source
Install popular web apps with a few clicks, customize them easily with app-specific code completion, and publish them quickly to the web.

Designed for Mobile
Optimize your websites for mobile browsing with built-in templates, device emulators and code completion for
JQuery mobile.

Source Control with Git
Plug into GitHub, CodePlex, and Team Foundation Service to start sharing your code with the world. Whether you're a newcomer to git, or a seasoned pro, you'll find all of the features you would expect in a powerful but easy to use tool.
How It Works
Get Reliable and Blazing fast VPS in 3 simple steps.
We are always on – so callus Any-time.

Choose A Plan
Choose a vps plan which best suits the application you want to run

Signup
Signup , fill in your details , choose os , so we can provision your vps

Login to your panel to see your vps details , you start , stop restart , resize do a whole lot of stuff here
Instant setup of your windows vps - No more waiting
Create, Delete, Start / Stop Manage your vps now.
Get Started